The Story
We've always wanted to strap ourselves into a rocket and launch ourselves into space. 🚀 But that was confusing and possibly illegal, so we did something much cooler: we launched an initiative to help a non-profit organization boost their mission. We realized as lovers, creators, and imaginators of software that technology solutions could bring enormous benefits to a non-profit organization.
In July of 2018, we launched an initiative to find a group of heroes that needed a friend to help address some problems. They needed to be bold; ready to bring the daredevil out in themselves. And of course, because we wanted to help awesome people do awesome things, this would come at no cost to the organization (an estimated worth of nearly $75,000). That's a pretty big deal, but the time and effort would be well worth it if we could empower a non-profit to drive their mission through technology.
We first took on the tough task of narrowing our group of 20 applicants to six semi-finalists. After learning about so many incredible organizations, we had found our fellow big kids and daredevils: New Roots. They are basically fresh-food knights on a quest to bring organic goodies to food insecure neighborhoods in Kentuckiana. They do this by giving 'shares' of food to registered individuals, called 'shareholders'.
The Situation
New Roots needed a solution to their logistic problems: They were directly trying to contact every. single. shareholder for each of their fresh-top market events! These stars obviously cared about creating change in our community. Not to mention that shareholders were still sometimes forgetting to come pick up their shares.
Shareholders were also in-the-dark on how much money they were actually saving by getting produce through New Roots. If we could express to them how much each share was truly worth, maybe they would donate; however, there wasn't an easy donation option.
The Mission
Create a mobile app that not only helped new applicants sign up, but also reminded them to order and pickup new shares. The app would also help calculate the share cost as well as empower them to sweeten the pot with a donation here or there.
First we had to head to the source: those shareholders. They would be using the app, so we had to start there! We wanted to know every little detail about when and what they ordered, and how they got their shares. Through user testing, we found out what stakeholders wanted the app to do for them.
Next was designing the app. We got our best group of boys and girls together, ready to make the iOS and Android app of New Roots' dreams.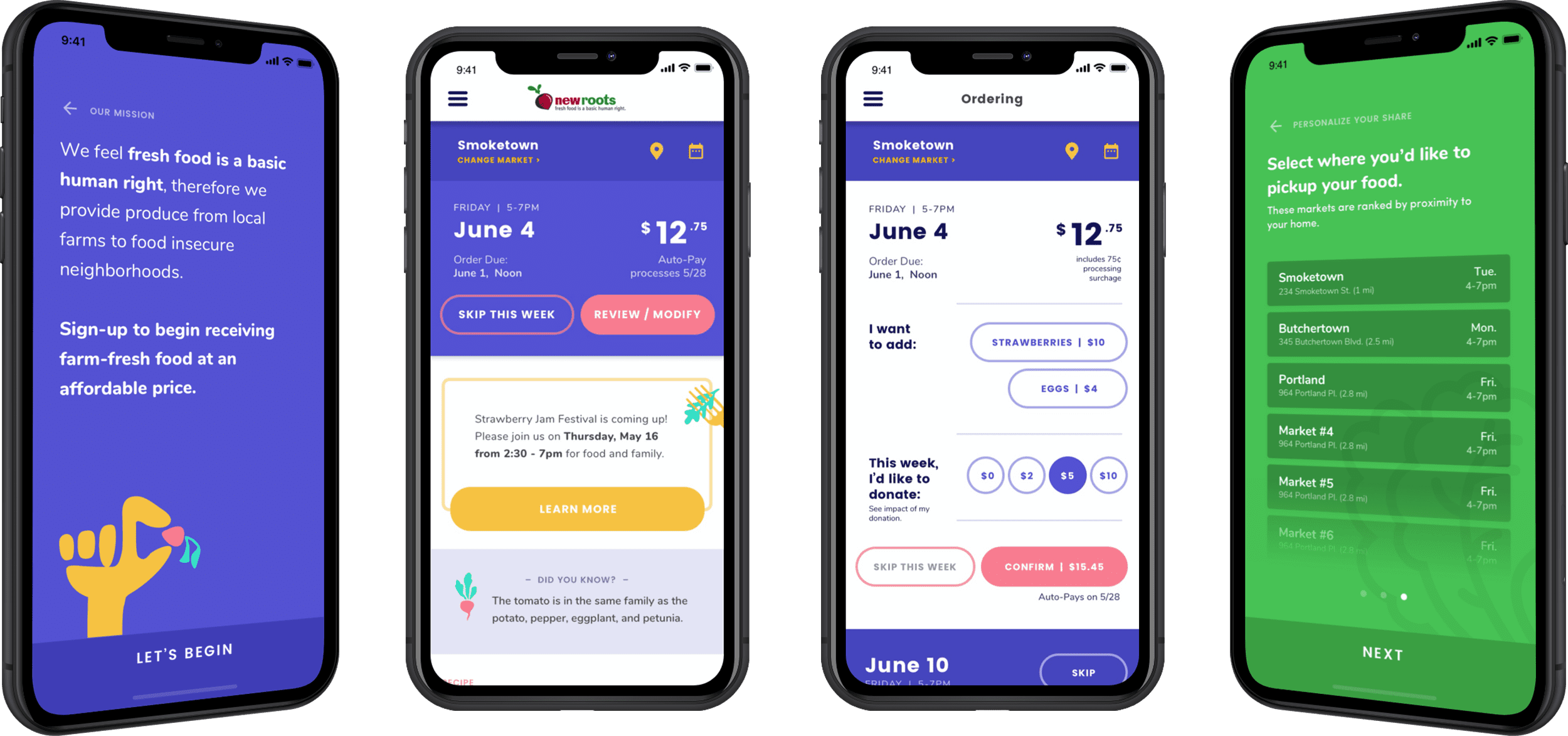 We worked to perfect the app for anyone and everyone. Payments could be made through debit and credit card, SNAP, or ACH access codes. The questionnaire we implemented also helped estimate how much each shareholder should pay per share.
Shareholders could now see which markets were closest to them and when they were open. They also learned just how much each share cost, and exactly how New Roots covered their expenses through donations.
The Update
After all of that fun, Slingshot is now at the coding stage of development. Here, our expert team of developers will write code to enable the app to run on both Android and iOS phones, relentlessly making sure it will run efficiently and effectively. We'll explore all corners of the app, searching for possible weaknesses.
From there, we'll continuously release updated rough drafts to users so that we can test as we go. Finally, the app will be published to the Google Play and Apple App Stores and available for shareholders to start rocking out!
Even after the release is said and done, we'll still make sure the produce-loving app is running smoothly; we won't be leaving New Roots in the dust. We plan to have an ongoing relationship with them in the hopes that we can better their app if needed.
The Goal
We hope to have the New Roots app launched into mobile app stores by the spring season of this year. What we are creating for New Roots is a beautiful app that will fight food injustice; sounds like a cool superhero.
As New Roots Executive Director Karyn Moskowitz says, "We want everyone to see us as the go-to organization for all things food justice in our region, and for our fellow Kentuckians to be proud of that and shout it from the rooftops (or from the mobile app!)."
Couldn't have said it better ourselves, Karyn.
Stay tuned for more updates!
Get the latest news from Slingshot