Another 365 days have come and gone; it's almost time for 2023! This year was a doozy: an international war, the Chris-Rock-Will-Smith fiasco, and a twitter takeover just scratch the surface of the craziness that happened. For starters, one of the most played songs of the year was released back in 1985 (thanks, Stranger Things.)
As we wait for the new year to begin, let's take a look back at all the things Slingshot tackled in 2022. Will we top last year? 👀
It wouldn't be right to talk about this year and not touch on the unlawful Russian invasion of Ukraine. Since February 24th, Ukraine has been fighting valiantly to protect their independence.  
Ukraine can still use our help as they fight against Russia. To lend a hand or donate to approved charities, check out our Ukraine assistance page. 
Support Ukraine
Slingshot Projects
LG&E and KU
LG&E KU's Renewable Choice Calculator completed development and user acceptance testing this year. Once it passes a final review, LG&E KU customers will be able to use the system. 
Zoeller Pump Company
We worked with Zoeller to launch voice skills for both Alexa and Google Nest. Slingshot also did some mobile app updates, and we've started on Phase 3 of the Sales Rep Portal. Learn more about the Sales Rep Portal in our case study video here. 
Schneider Electric
The NEO Network Platform's development phase wrapped up this year, and launched into full production in early Q3. You can learn more on the project via our case study video here. 
Endo Axis Labs
Our project with Endo Axis Labs started in September. They're a funded startup based in California with a focus in the hormonal dysfunction space. We're in the design phase of Endo Axis, and will be starting full development in the New Year.
Ann & Robert Lurie Children's Hospital of Chicago
The Ann & Robert H. Lurie Children's Hospital of Chicago's Injury Plausibility Assessment mobile app is in the final review process, and is set to launch in 2023. 
MetLife
We've done quite a bit with MetLife this year. Just some of the tasks we tackled included: assisted with full migration to Azure, upgraded the Group Policy Payment processing system, , published an integration with Life Balance, released a photo and file uploader, improved the in-app registration, added a 500 benefit option, created an Auto-Cancel feature, and continued with ADA enhancements.
Thrive Mobile
Our partnership with Thrive Mobile began in early September. Our first project was to develop a web-based user guide to walk through the onboarding process. We've just started creating the UI designs and writing out the instructions.
Our next project with Thrive was creating a conversational UI prototype. This would allow users to text questions to a chat bot, and receive answers back in seconds. Check out a small snippet in the video here:
Connected Caregiver
Earlier this year we worked with Connected Caregiver to design an app to help at-home caregivers take care of their loved ones. The design prototypes were handed off in August for development to begin.
Corrisoft
This year we worked with Corrisoft to help them manage and migrate their large database. Specifically, we set them up with a containerized infrastructure in AWS and gave them a way to be able to archive old data to increase performance in their production database. 
Paysign
In late Q3, we started working with the Nevada-based company Paysign: a group that creates customized, end-to-end solutions for complicated payment problems. We completed the Discovery phase for Paysign's Card Management business, with development expected to be underway by Q1 of next year. In the meantime, we've also taken on their Copay Patient Affordability system with plans to move this system to .NET. 
KLE
If you've been here a while, then you know that we've worked with KLE in the past to help build out a mobile app for off duty officers to pick up security shifts. We also modernized their website  by simplifying the overall functionality.
This year, KLE approached Slingshot to help update their technology to better fit their new business model. We are introducing a security model to the web application that allows for multiple Admins to run multiple separate businesses, and moving all officer functionality to the mobile application.
Slingshot Ventures Companies
P3 Technology
2022 has been a big client year for P3 Technology; we've launched with 3 new customers. Stay tuned for several major releases throughout 2023!
C2 Keep 
C2 Keep launched in March of this year and was a Vogt Award winner in November. This year the team has been busy building out integrations with wholesalers and pharmacy management systems. They are adding functionality based on customer feedback and continuing to grow the number of stores using the product. 
The New Year will bring about new opportunities and C2 Keep is primed to grow. 
RiseUp
RiseUp is one of two new Slingshot Venture's projects this year. RiseUp is setting out to change how students and parents think about applying to college. They are going to teach them how to play the game. 
As we head into the new year, RiseUp will be raising money and continue to build on all the positive momentum coming out of design. 
Kentucky Hug
The Kentucky Hug is the second new Slingshot Venture's project. The Kentucky Hug is a centralized app that showcases available distillery experiences from across Kentucky. Instead of booking them individually, you can reserve multiple tours at once.  
In 2022, The Kentucky Hug team finished their research, aggregated feedback on their mobile concept, built out wireframes for the web product, completed company valuation and forecasting, created a new pitch deck, and are currently raising money.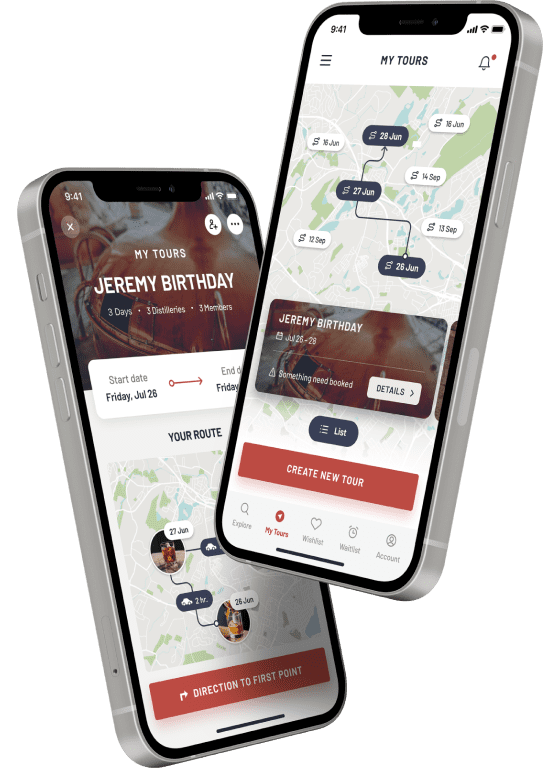 Awards
Some shiny awards to add to the trophy cabinet, wouldn't you say? 
| | | | |
| --- | --- | --- | --- |
| | | | |
| Clutch | Horizon Interactive Awards | Web Excellence Awards | The Manifest |
| Top 1000 B2B Service Providers – International | Two-time Best in Category Champion | Five Time App and Mobile Design Winner | Top Recommended Development Firm |
| | | | |
| --- | --- | --- | --- |
| | | | |
| Upcity | Louisville Business First | Clutch | AICPA  |
| Best of Kentucky Award Winner | Louisville's Largest Developers List | Top B2B Company in Kentucky and Tennessee | Soc 2 Type 2 Compliance |
Most Popular Blogs 2022
We had a wide range of popular content this year! These 5 blogs basically cover everything we put out: our two shows Founders' Fable and Slingy's Daredevil Spotlight, fun culture videos, and informational thought pieces. 
Conclusion
And that's the year! What a ride it's been. Here's to hoping that next year is just as exciting as this one. 
Happy New Year, yall! 🥳🎆