Our group of designers have a great variety of specialties and identities. They all had different journeys to get both in the field of designing and to Slingshot. Whether you're interested in one day becoming a software designer, or you're looking to learn more about who Slingshot is, here's a look into some of our design squad.
Rachel Foster
UX Design Lead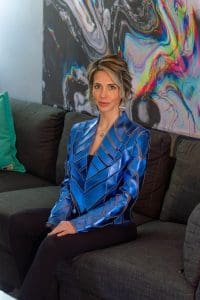 What's your design expertise?
User Experience (UX) Design & Creative Direction
When did you decide you wanted to 'grow up' to become a designer? What led you to this decision?
Growing up, I frequently played with my parent's art supplies and digital gadgets. At the age of 4, I received a VTech Video Painter TV Drawing Tablet. I was mesmerized by the ability to draw on something physical and it then appears digitally! Those were my first "graphic designs." In elementary school, I spent after-hours in the school's computer lab building digital landscapes with Dreamweaver. Then in middle school I taught myself how to code, do small hacking tricks in AIM, and design/code a blog (and of course, MySpace). I entered college as a Fine Arts major with a Painting emphasis, but it wasn't until my Sophomore year that I realized I could blend my love of tech and art into one. I didn't know graphic design was a potential career option, and it felt as though a whole new, exciting world had opened. 
What education did you get around design?
Both of my parents were artists, so I grew up painting, drawing, sculpting you name it. My parents encouraged me to paint at the age of 1, so I like to think my creative eye has been developing since. Beyond that I took art classes all through school and college, and self-taught anything regarding digital creation. In college I studied Fine Arts as well as Visual Communication & Design. The defined field of "UX" didn't exist at that time, so I ended up organically finding it via my love of creating web sites, apps, and motion graphics. I've been honing my skills via self-education and job experience since. 
What are some qualities of a good designer?
Having "an eye" – and what I mean by that is the ability to soak in visuals and understand what feels off, what feels right, what needs more breathing room. Is the vibe right? Does it fit? Should something shift? What about the color? I sometimes liken it to pattern recognition. Some other good qualities are curiosity, willingness to experiment & learn, as well as the ability to clearly communicate design thinking and decisions. Storytelling skills are always a perk – take us on an adventure.
What is your favorite part of design? What's your least favorite?
I love crafting experiences that are intuitive. For me that means embracing empathy and putting myself in a person's shoes to understand what may or may not work for them. I love seeing the system as a whole, and helping steer vision. 
My least favorite part is, what I call, the weeds. The design minutia – perfecting tiny pieces and parts, and producing the detailed work that equates to pixel perfection. I used to love this aspect, but I now prefer guiding vs. the nitty gritty. I'm appreciative of the years I enjoyed that type of work, however, bc I now have an uncanny eye for knowing what needs to be moved, & by how many pixels, in order for something to "feel better." The engineers fondly (or unfondly) call me "The Pixelator." 
What are some 'perks' of becoming a designer? What are the disadvantages? 
That you can build something out of thin air will never cease to amaze me! The skills learned in design can extend to all areas of life: your home, clothing, style, how you organize, etc. It's all about cultivating enjoyable, intuitive experiences via the mind's eye. 
The disadvantage to working in UX is the inability to NOT use a computer. A screen is a must, and at times it fatigues me, or I wish I could tangibly create, vs. digitally having to do so. 
What advice would you give to someone interested in becoming a designer?
Experiment. As you're starting out, mimic designs to learn new techniques. Tech is constantly changing so try and stay up-to-date. Study visual mediums beyond your interests (painting, sculpture, video, performance, lighting, textiles, etc.) When using new software, click on *everything* – it helps to learn. Curiosity & play will take you far.
Eric Rowan
Lead UX/UI Designer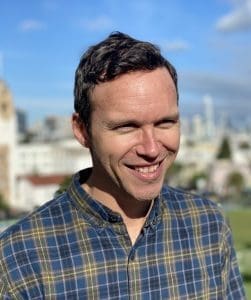 What's your design expertise?
As a designer I try to remain curious and adaptable. By being more of a generalist, I find I'm able to jump in quickly on new teams or on different phases of a project and make an impact. This approach has some tradeoffs, but I enjoy the versatility of skills I pick up and diverse challenges that come with it. 
When did you decide you wanted to 'grow up' to become a designer? What led you to this decision?
I've explored several different career paths like carpentry, wilderness therapy, front-end development—eventually finding my way back to design. I enjoy creative problem solving and detail-oriented work. As a kid I was drawn to computers and art, and design is relatively safe and cushy compared to some of the other options. 
What education did you get around design?
At first I took the traditional route, but after an Associates in Computer Graphics Technology from Purdue many years ago, I realized the information I was learning at the time was seriously outdated. After graduating I landed an entry-level graphic design job at a tiny agency, and much of my design education since then has been on the job. 
What are some qualities of a good designer?
I'm trying to be a better designer and these are some things I'm working on:
Being comfortable asking lots of questions 

Knowing when to ask for help

Cultivating a sense of empathy

Learning from mistakes

Ability to step back and look critically at your own work, who it's for, and in what context

Keeping things organized so teammates can collaborate easily

And most importantly, making the logo bigger
What is your favorite part of design? What's your least favorite?
One of my favorite phases in a design project is early on when the possibilities are wide open. It's an exciting time of hope and optimism that can be almost intoxicating. 
Sometimes the intoxication can bring on a mild hangover—making lots of decisions, committing to a concept, knowing when to call something done. I'm not exceptional at time management and I occasionally wind up getting stuck in the weeds. To minimize this, I try to establish design systems, standards, and processes early on and adhere to them. 
What are some 'perks' of becoming a designer? What are the disadvantages? 
There are lots of perks to being a designer and generally I feel very fortunate to be in this career. I enjoy solving problems creatively, trying out new ideas and tools, and learning about how people will interact with and use the products I'm helping build. Sometimes you get to work on an app that thousands of people use to make their day a little easier, and that's pretty swell. 
One con that I often come back to is just how much time is spent in front of a computer. It's not that I'm a luddite or saying we should (or shouldn't) smash our laptops! But it is something to be aware of. I try to get outside and move around as much as I can. It's important to occasionally remind myself that I am human and my work is also impermanent.
What advice would you give to someone interested in becoming a designer?
There are so many resources out nowadays for designers and developers that it can be overwhelming to get started. The important thing is to start. Pick an interest, spend some time reading about the basics, and jump into a tutorial or personal project. Redesign an existing app you love. 
Chances are you'll find out quickly whether this is a viable career prospect. From there, apply to school or a boot camp, or pick up some freelance gigs. Learn as much as you can, and start building a portfolio with the kind of projects you enjoy doing most.
Cheyenne Nolan
UX Designer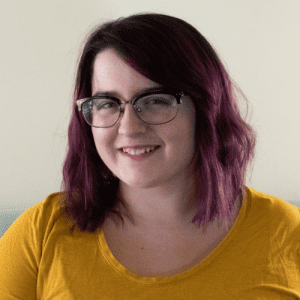 What's your design expertise?
UX and UI design primarily, but I also love branding and illustration.
When did you decide you wanted to 'grow up' to become a designer? What led you to this decision?
Storytime! When I was a kid, I got really into this children's fantasy adventure series (think Redwall, but with cats). I've always been voracious when it comes to learning about things I'm interested in, and I found out this book had a thriving online community of fan sites focused on it. I begged my parents to let me start a website, taught myself HTML and CSS, and built & maintained a website about these cat books on my own from 5th to ~9th grade. Since then I've loved graphic design, interactive design, and the sense of community that comes with it.
What education did you get around design?
I have a BFA in Graphic Design from the University of Louisville. I'm also a big believer that design can be self-taught; I'm still always seeking out and learning new approaches and methods and I know plenty of successful designers without a degree in design or a degree at all.
What are some qualities of a good designer?
Phew, I have some opinions here. I have three big ones!
Empathy; unless you can put yourself in your user (or client's) shoes, you can't fully understand the solution to their problem. If your design looks nice, but doesn't take into account the journey and pain points of the people who will use it, it will fall flat every time. This is especially true for UX and UI, but it can apply to every other type of design, too.

A sense of adventure; the willingness to explore. For me, that includes doing research for a project and trying a new tool or methodology…but, my favorite is ideation. Instead of fleshing out a single idea that may or may not work; I'd rather come up with 15 different rough ideas, throw them all at the wall, see which 1–2 stick, and start exploring from there.

Resilience; the ability to bounce back. Sometimes, you design something that's just an absolute stinker. It happens to everyone, but successful designers are able to take the hit and try again with what they've learned. Included with this is the ability to take constructive criticism.
What is your favorite part of design? What's your least favorite?
My fave; the initial research and exploration phase. I find a lot of joy and fun in talking with a client or user about their needs, learning about their history and competitors, finding design inspiration, doing rough & scribbly design studios… It's like a little scavenger hunt. The prize at the end is a proposed solution that makes the client / user say "wow!" or "that's exactly what I'm looking for."
My least fave; prototyping. Testing a prototype is fun; building it, not-so-much. I've yet to find a program that can make a prototype feel "real" without a million tiny manual iterations of a single screen.
What are some 'perks' of becoming a designer? What are the disadvantages? 
Pros; If you like helping people and enjoy creative problem solving and visual communications, design is incredibly rewarding. I believe the most recent AIGA Design Census showed that the majority of designers were either "extremely satisfied (11%)" or "happy, but room for improvement (54%)" with their jobs.
Cons; people often don't think of design as a "serious profession" because it's so often creative. Lots of McDonald's and "starving artist" jokes. I think directly related to that, if you actively post about design online, people ask for free work a lot. Or, if you're lucky, they'll offer "exposure," which has a USD conversion rate of exactly $0. 
What advice would you give to someone interested in becoming a designer?
LAMSTAIH. "Look At More Stuff; Think About It Harder." Great advice from speaker, consultant, and provocateur Andy Stefanovich that was passed down to me from my design mentor.
I'm passionate about lifelong learning, education, and design education specifically. If you're curious about pursuing design at all, reach out—I'm always happy to talk about it!
Want to read more interviews?