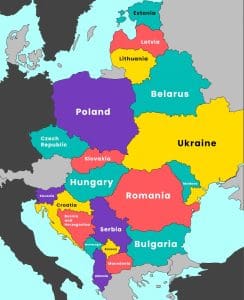 FOR IMMEDIATE RELEASE
[Louisville KY – June 9th, 2023] – Slingshot, a leading provider of innovative software solutions, is proud to announce the launch of its newest service offering: Eastern European (EU) Staff Augmentation. This groundbreaking solution enables companies to expand their tech teams with highly skilled professionals from Eastern Europe, either as contractors or full-time employees.
In today's competitive business landscape, finding and retaining top-tier tech talent is a common challenge for organizations. Slingshot's EU Staff Augmentation model addresses this pain point by connecting companies with an abundant and diverse pool of vetted professionals. This service is an ideal solution for tech teams with established leadership and processes, offering a range of benefits that drive success and growth.
One of the key advantages of Eastern European Staff Augmentation is the broad talent pool it provides. Candidates from Eastern Europe possess a wide range of skill sets, enabling companies to access expertise in various technologies and industries. Additionally, these professionals are not only technically proficient but also culturally aligned, making them excellent fits for teams that value collaboration, innovation, and creativity.
"Slingshot is thrilled to introduce this new service to our valued clients," said David Galownia, CEO of Slingshot. "We recognize the critical need for companies to find top talent efficiently and have been using talent from this region successfully for quite some time. Our new offering empowers businesses to scale their teams quickly without compromising on quality. Culture is similar to the US so team members can join seamlessly. We have a unique perspective on using talent from this region because we use these same folks on our own projects."
The cost-effectiveness of Eastern European Staff Augmentation is another compelling aspect of this service. Tech talent in Eastern Europe can be up to 40% less expensive than comparable talent in the United States, allowing companies to optimize their resources and increase their competitive edge.
With Eastern European Staff Augmentation, companies can experience seamless scalability. Whether they require a few contractors or an entire team of full-time employees, Slingshot can quickly onboard the desired resources, saving valuable time and effort. The streamlined process of candidate search, client approval, and onboarding ensures a smooth transition and integration into the existing team structure.
To learn more about Slingshot's Eastern European Staff Augmentation and how it can benefit your tech team, visit their Eastern Europe service page, or contact their team directly at hello@yslingshot.com.
Learn More →
About Slingshot
Slingshot is a software and app development company specializing in helping businesses achieve large impact with tech. They were founded in Louisville KY in 2005. 18 years later, they have offices in Nashville and Chicago, and team members located throughout the world. Slingshot has been named one of Clutch's Top 10 App Development Firms in the United States and is a Five-Time Web Excellence Award App and Mobile Design Winner. For more information, visit yslingshot.com or email hello@yslingshot.com 
For media inquiries, please contact:
Savannah Cherry
Director of Marketing and New Business
Phone: 812.748.2499
Email: savannah@yslingshot.com