The Story
It's heartbreaking to think of how child abuse victims are often undiagnosed or mis-diagnosed by clinicians due to a lack of knowledge of high-risk signs or symptoms. If there is one area where we shouldn't make mistakes, it's with the most helpless among us. Although research in the field of detecting abuse is abundant, it is largely unknown. Dr. Mary Clyde Pierce, a leading expert in the field alongside Ann & Robert H. Lurie Children's Hospital of Chicago saw an opportunity to provide clinicians access to leading child abuse data at their fingertips.
Technology: Xamarin, C#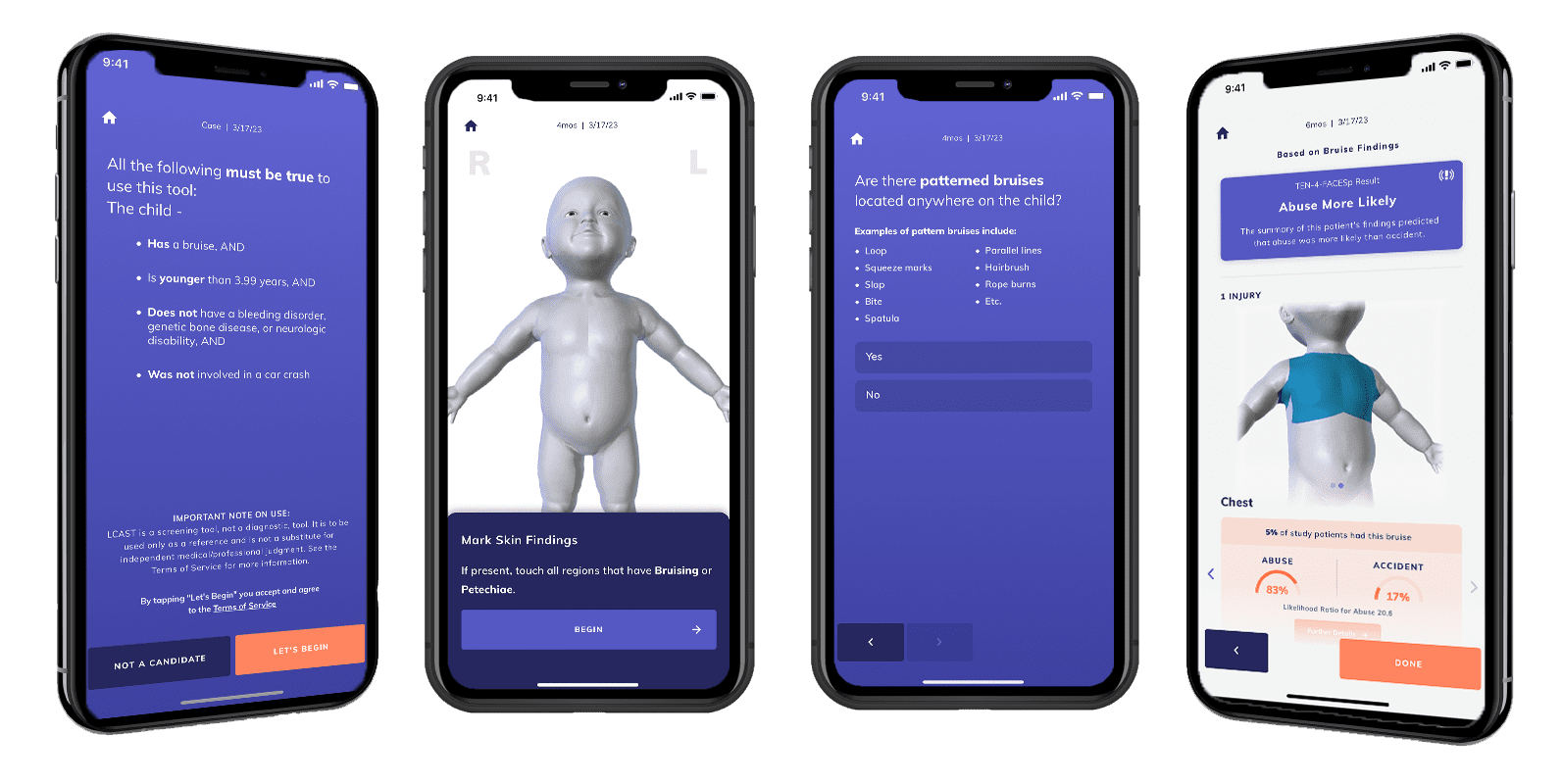 Taking Aim
Collaborating closely with Dr. Pierce, ER nurses, pediatricians, and other clinicians, we talked about how we could intelligently spread child abuse knowledge quickly. From analyzing our conversations, we knew we would need something mobile accessible and quick to use. We also knew the app would have to be interesting, interactive, and solidly backed by real data. HIPAA was a concern, so it was important we abstained from collecting and storing patient information.
Objectives
Make child abuse research data accessible through a mobile app
Keep ease of use high, while still keeping information rich
Integrate an interactive 3D Human Model to document injuries
Be able to quickly and accurately document injuries on skin, skeletal, and organs
Refrain from storing patient data to be compliant with HIPAA
Hitting The Target
We're excited to announced that this app is live and available for free download now! Clinicians can answer questions about signs and symptoms and document patient injuries on a 3D interactive human model. The app references powerful research data, much of it pioneered by Dr. Pierce, and seeks to educate clinicians on how to better diagnose abusive situations. In the end, the app was released free of charge and promoted globally as a new standard for best practices in recognizing potential child abuse.
Years of passion by Dr. Mary Clyde Pierce in the field of child abuse
Children die every day because of child abuse.
2.9 million
cases of child abuse are reported every year in the United States.
"...they understood our unique vision and guided us through the process of translating it to a mobile app. It was clear they had a high level of expertise and we could talk freely about what we needed. They walked us through solutions in a way that was easy to understand and we felt engaged during the entire process."

Pierce, Mary Clyde, MD

Professor of Pediatrics Ann & Robert H. Lurie Children's Hospital of Chicago